Description
Sanitiser:
70% Alcohol based – 50 ml – SABS approved
Face Masks:
Buy a fabric mask and only replace the filter.
The mask proves to be successful as a barrier to droplets larger than 5 μm. Secreted at a speed similar to what happens if a person exhibits respiratory symptoms such as sneezing or coughing.
Triple Layered with tie backs for comfort
Breathable
Washable: The filter unit is reusable for up to 5 washes and can be removed to be disinfected between uses.
D15 Filter
Outer fabric:100% polyester, warp knit to assist breathing, 115gsm.
Mesh: 100% polyester, warp knit to assist breathing, 95gsm;
Binding: 100% polyester superfine.
Packaging: In plastic pockets with a QR Code printed giving all the specifications of the mask.
Knit & colour fabrics may differ dependant on availability as we support our local clothing & textile workers. The fabrics will always fully comply with the regulations as set out by government.
Small Adult Mask:
Red cord
8cm length
24cm width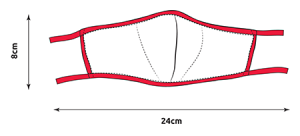 Large Adult Mask:
Royal blue cord
10cm length
26cm width